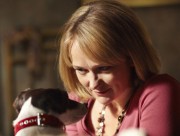 Vera Devenish

Gender:

Female

Hair Color:

Blonde

Eye Color:

Blue

Job:

Housemother and Secret Spyer

Posention:

Deloras a Taxidermy Dog

Played By:

Poppy Miller
Vera Devenish
first arrives at the Anubis House to replace Trudy as the role of the housemother in Anubis House during Season Two. Victor and Vera bond over her stuffed dog, Delores. Secretly, Vera is working with Rufus Zeno, who uses the pseudonym "The Collector", to recover and collect objects that belonged to the Frobisher-Smyths. During the finale, she gets fired because Victor figures out that she was working for Rufus Zeno. Vera is portrayed by the actress Poppy Miller.
Ad blocker interference detected!
Wikia is a free-to-use site that makes money from advertising. We have a modified experience for viewers using ad blockers

Wikia is not accessible if you've made further modifications. Remove the custom ad blocker rule(s) and the page will load as expected.