The Mask of Anubis
is a Mask that produces
Tears of Gold
. The Mask is a major part of the mystery in
Season 2
.
Senkhara
was threatening
Sibuna
to find it, or "Forfeit your life." Senkhara demands the Mask. They thought that Senkhara would wear it, but they found out that Senkhara was going to make
 Nina
to wear it, producing Tears of Gold.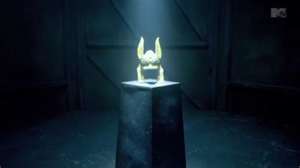 This page is a Season 2 page.
Edit
Ad blocker interference detected!
Wikia is a free-to-use site that makes money from advertising. We have a modified experience for viewers using ad blockers

Wikia is not accessible if you've made further modifications. Remove the custom ad blocker rule(s) and the page will load as expected.