Sarah Frobisher Smythes



Birthday:

November 1, 1915

Died:

October 23, 2011

Age:

95 at death

Friends:

Nina Martin, Fabian Rutter, and Amber Millington

Affiliations:

Sibuna

Relitives:

Robert (Dad) and Louisa (Mom)Frobisher Smythes

Played By:

Rita Daves
Sarah Frobisher-Smythe was an old lady that lived in Anubis House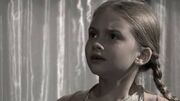 when she was younger with her parents, Robert and Louisa Frobisher Smythe and Victor Rodenmaar Sr. and Jr. She gave Nina Martin the Eye of Horus locket and told her it had powers but not too long down the line she passed away, Victor and Nina were so sad, as they were her friends. Rufus Zeno was her Osirion, this was revealed by Victor Rodenmaar Sr. Sarah was played by Rita Daves.
Ad blocker interference detected!
Wikia is a free-to-use site that makes money from advertising. We have a modified experience for viewers using ad blockers

Wikia is not accessible if you've made further modifications. Remove the custom ad blocker rule(s) and the page will load as expected.