Patricia Williamson



My Nicknames

Yacker(by my Sweet boyfriend, Eddie Miller)

My Family

My annoying twin, Piper Williamson, My loving mum, and my dad.

My Relationships

Eddie Miller

My Occupation

Student, Girlfriend, and Sibuna member.

My Best Friend

Joy Mercer

Played By:

Jade Ramsey

Born In:

England, UK

Occupation:

SIBUNA! and Actress

Years Active:

2003-present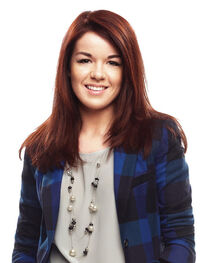 Patricia Williamson is a student who lives at Anubis House. Her best friend is Joy Mercer and in the beginning of the series, she mysteriously disapears and Patricia blames it on the new member, Nina Martin. She starts to bully and harrass Nina because she thinks that Joy's disapearence is really her fault. Deeper into the mystery, she finds out that it wasn't really Nina's fault and that Joy is OK. Eventually, she joins Sibuna without doing the ritual. During Season Two, she first meets her future boyfriend, Eddie Miller/Sweet, who is Mr. Sweet's son. Patricia starts a love-hate relationship with Eddie. When Piper, Patricia's twin sister comes, the drama intenses and Eddie kisses the wrong girl. When Piper gives her necklace to Patricia, Eddie by accidentally tells Patricia about the kiss and she is infurious. Patricia is portrayed by the actress Jade Ramsey, while her twin, Nikita Ramsey, played Piper Williamson.